Children 's Hospital, Agia Sophia - University of Athens, Medical School, Unit of Hematology of Oncology, 1st Pediatric Clinic National and Kapodistrian University of Athens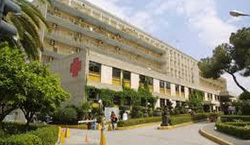 Children 's Hospital, Agia Sophia - University of Athens, Medical School, Unit of Hematology of Oncology, 1st Pediatric ClinicNational and Kapodistrian University of Athens
http://www.paidon-agiasofia.gr/
Scientific coordinator: Prof. Antonis Kattamis
SCIENTIFIC PROFILE AND SPECIALISATION
The Children's Hospital Agia Sofia is one of the most important pediatric hospitals in Athens. The role of the Hematology Oncology Unit, 1st Pediatric Clinic of the National and Kapodistrian University of Athens refers to pediatric patients with neoplastic disease The Unit in 2014 treated 93 patients with a history of neoplastic disease, representing approximately 28%-30% of the corresponding number nationwide, making the Unit the largest corresponding part of the territory.

Scientific fields: Pediatric malignancies and other haematological diseases
Participants
Prof. Antonis Kattamis, Associate Professor of Pediatric Hematology-Oncology. Dr. A. Kattamis has more than 100 publications in peer-reviewed journals.
Project Coordinator: Katerina Katsibardi, pediatrician.